>
>
>
Wolframkarbid-3D-Druckdüse mit 0,4 / 0,5 / 0,6 mm
Wolframkarbid-3D-Druckdüse mit 0,4 / 0,5 / 0,6 mm
?>
marke :LIHUA
Die HERKUNFT der Produkte :Zhuzhou, China
Die lieferzeit :7-15 Arbeitstage
Die fähigkeit, :15 Tonnen pro Monat
Anwendung
Nicht-Standard
Kann in hochreinen Wolfram-Rohstoffen angepasst werden
2) Calibration efforts are more stable (constant layer thickness even during extreme long print-runs as well as during high temperature print processes
3) No extreme tempering effect. (Hardened Steel nozzles suffer a strong tempering effect caused by heat, which makes the steel softer.
4) Our flattened nozzle tip doesn't scratch glas beds unlike diamond / sapphire nozzles or not flattened nozzle tips.
5) Another positive aspect is that there is no need for long lasting researches because it is anyway a reliable quality standard in the plastic extrusion industries and this lowered the developing cost of the 3D Printer nozzle and it grants a fast production after the crowd funding campaign became successful.
6) It has no tungsten nozzle tip in a steel or brass body instead our nozzle is completely made of a premium tungsten alloy which makes it more reliable and grants better thermal conductivity .
7) Made of a premium tungsten alloy which is generally used in the plastics industry or for aeroplane applications.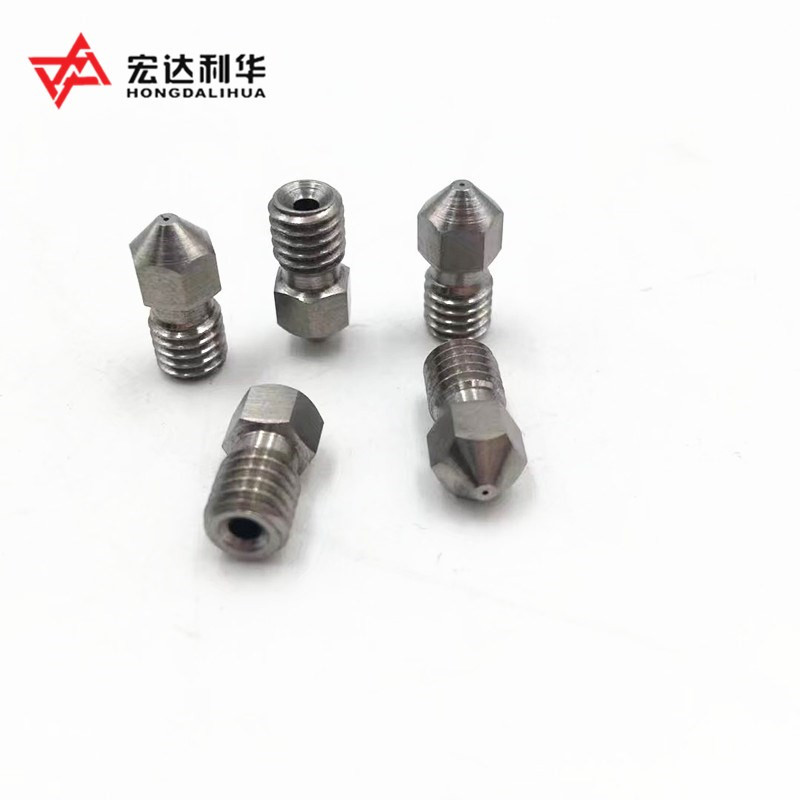 | | |
| --- | --- |
| Products Name | Tungsten Carbide 3D Nozzles for 3D Printer |
| OD Size | 0.2/0.4/0.6/0.8mm etc |
| Sample | Available for testing |
| Size | 14mm in stocks, Can be Customized |
| Type | 3D Printer Nozzles |
| Grade | 97%WC ,+2.1% Nickel +0.9% Fe |
| Materials | Tungsten carbide |
| Physical performance | High hardness, Strength, well resistance, High Quality Printing result |
| Application | Plastic Industrial and Aerospace |
| Non-Standard | Can be customized in high purity tungsten raw materials |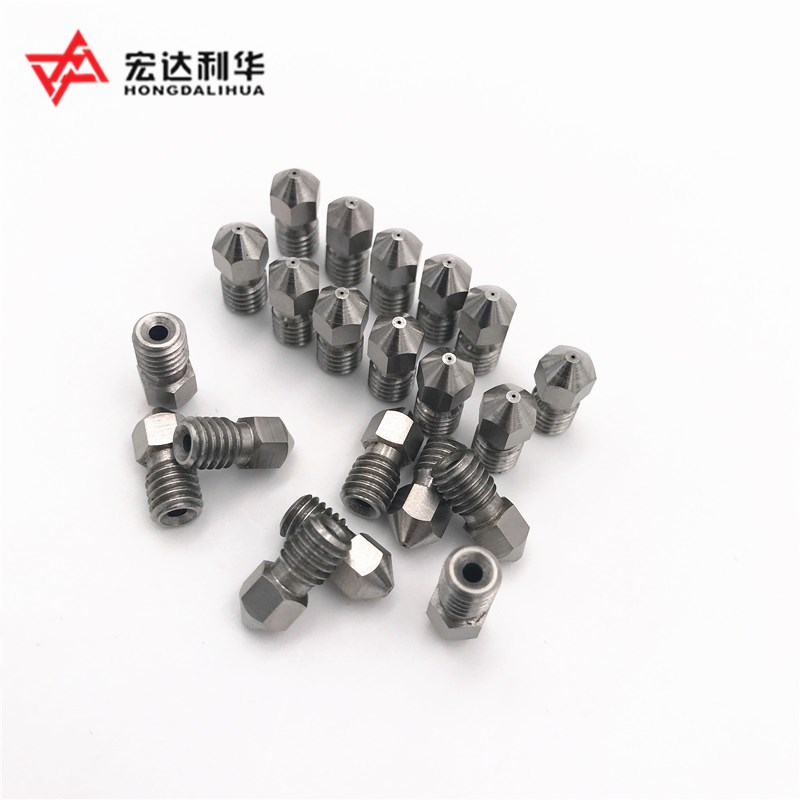 Kunststoff Industrie und Luftfahrt
Holen Sie sich den neuesten Preis? Wir werden so schnell wie möglich antworten (innerhalb von 12 Stunden)